From Frozen Tundra to Sparkling Metropolis
---
---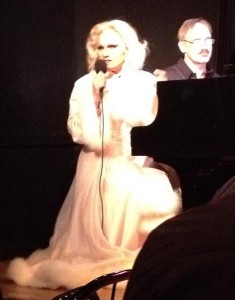 Just finished the third and final show of my debut run of ICONS: A Tribute to the Women Who Inspire Me, at the Duplex in New York City this past Sunday.
The show traces my inspirations from my days as a young girl on the frozen tundra of Northern Minnesota to stardom in the sparkling metropolis of New York City. The audience meets my mentors through songs made famous by or about stars like Peggy Lee, Marilyn Monroe, Marlene Dietrich, Madonna and Donna Summer, among others. It's a campy little romp.
Putting the show together was a labor of love and one of the most rewarding collaborations of my career. Director Lennie Watts and Musical Director Rick Jensen are both geniuses whose input was invaluable. All three shows had good houses and the audiences were enthusiastic. My guest performers, Brad Bradley in the first show and Lennie Watts in the others, were fabulous.
I plan to bring it back again this spring for a couple of more performances in New York, in addition to booking it out of town.
Show reel to come soon.
---
---